WELCOME to Eating Peace.
You have 30 days to decide if it's right for you (May 30th). You can get a refund (minus $97) if it is not, no questions asked.
Join from anywhere in the world, and do this program from the privacy of your own home.
You will learn foundational practices for eating peace, plus six more modules on key topics to deprogram stressful belief systems and rebuild your self-love, understanding and confidence around eating and your body image.
Eating Peace Process is a unique program of its kind that focuses on the original energy, belief or birth of a craving or stressful thought about our body….and applies inquiry using The Work of Byron Katie and mindful awareness and compassion.
The idea is that when we address the stressful thinking, and can observe with and open mind, we get to face the thought that declares "I'm ugly" or "I must eat" or "I can't lose weight" or "this is urgent" (including the urge to eat immediately).
I am honored to have you as a fellow traveler on the road to freedom and peace, and rediscovering our true nature. One that is not compulsive and not addicted.
If you're ready to foster and grow true eating peace (and body peace) through thinking peace, while avoiding diets, drudgery, shame and willpower…..here's how we'll get you there.
New Program Beings: May 1, 2019.
FOUNDATIONS: GETTING OUR MEDICINE KIT TOGETHER FOR OUR JOURNEY
In our first two weeks of the eating peace process, we'll learn and practice foundational principles that support us to live, think, feel and act differently with food and eating. You'll add a few simple practices to your life such as silence (five minutes of meditation if you've never done it before) and you'll identify your inner wise guide and your most beautiful heavenly day when it comes to food. You'll be clear about what you CAN DO right now when it comes to eating on a daily basis, without struggle.
The Foundations Module is one in which we apply action. We're adding new ways of being to our morning each day. We're reflecting and watching. We can't know where our "problems" with eating lie unless we begin mindful practice.
FOUNDATIONS MODULE:
You'll have a map of the program. We'll pull out the x-ray vision, so you can see what's really happening more clearly at your core, and what drives your off-balance eating. You'll be given the tools to use for the entire program, as a basis for a supportive life with eating, and really, with being a human with a creative mind.
accessing kindness
calming down exercises
silence–learning to be supported in meditation
The Work of Byron Katie (step-by-step overview for those who have never done it)
one page a day–why journaling is so important especially in understanding compulsive behavior
committing to guidelines in our hearts, minds and eating–our own way
meeting your Compassionate Advisor
MODULE ONE: SPELL-BREAKING
We look at the order of creation, as written in many theoretical and philosophical observations about human behavior: Think – Feel – Act – Have. We start with the mind, the center of "thinking" to see where and how we need to think differently, in order to be happy with eating. We question our stories.
IN Module One we assess. What's going on? Let's observe, without judgment, what we do that's not working. You'll create an Awareness Map of your eating. We'll be making friends with Thinking and Imagination. What happens when you get hungry? What happens when you get full? What's going on in your mind and thoughts? We explore dissolving the Sin-Guilt-Punishment Cycle. How can we use imagination for peace instead of war? Let's find out. Exploring your immunity to change, or what's holding you back (often unconsciously). We learn what we're most afraid of that prevents true change.
MODULE ONE LESSONS:
1 Dance of Acceptance and Change – Think, Feel, Act, Have
2 Stories/Beliefs that keep us from eating peace
3 Have To, Want To, Choose To…Ending Diets forever
4 Why am I eating?
5 Hunger, Fullness and Finding (and Staying In) Your True Comfort Zone
6 Your Unique Immunity to Change
MODULE TWO: UNDERSTANDING EATING and EMOTIONS
We've all heard of emotional eating. We know what it is. But how do we interrupt it, or do our work so we find something even better than eating: feeling our feelings completely.
MODULE TWO LESSONS:
1 Feel More Eat Less: The importance of stressful feelings–messages from beyond!
2 Beliefs about feelings
3 Feeling without suffering
4 Empathy
5 Living Turnarounds: Moving through life while remembering our favorite turnarounds
MODULE THREE: EMPTY, BORED, DISSATISFIED TO FULL, INSPIRED, SATISFIED
What is powerlessness and how do we work with it or notice it? We begin to gather our personal medicine bundle. Understanding masculine and feminine energies when it comes to food and eating.
What is being empty? Focus on Feeling-ness (which is bigger in many ways than Mindfulness), Deficiency and Grasping when it comes to eating patterns. We'll look at Rejecting or Bolting–two of the biggest reactions around food, and the emptiness of boredom.
What are we afraid of? How do we work with the feeling of fear, in any form whatsoever (very small worry to full-blown terror)? How can our Inner Mentor or Fairy Godmother help with this? Accessing kindness, self-care and pleasure to support our freedom with food and eating. Exposing the fears bring awareness, and we can make a plan for how to handle them, without willpower, without deprivation.
MODULE THREE LESSONS:
1 Longing, complaining, and inspiration
2 Healing Shame and Guilt
3 Relaxing around PLEASURE and desire
4 Romance, Bodies and Food
MODULE FOUR:  TRAUMA TO TRIUMPH
As we explore trauma, beliefs from the past, difficulties…we'll look at three key feelings that fuel eating anxiety again: Powerless, Afraid and Empty/Lonely. You'll work with your Fairy Godmother, Wise Guide or Compassionate Advisor. Grace will give you the medicine (practices) she's used over time, to create health and healing around food.
MODULE FOUR LESSONS:
1: Fight, Flight, Freeze
2: Avoidance–it works–and what are the long-term costs?
3: Safety Zone & Building Tolerance for Distress
4: Defensiveness: Curiosity instead of Shield–Ending the Fix It approach
5: Restoring True Power Without Dictatorship
MODULE FIVE: NEW WAYS TO SEE–BODY IMAGE & TRUST
We look in this  Module at physical sensation, fullness and hunger, weight and judgment, and ACTION. In module four, our lessons include:
Leaving Weight-Hate, Mirror Work in depth. You will have an exercise to work with your reflection in the mirror, and really "see" what the truth is for you.
Observing, Looking at Data, moving from where you are to where you want to be, with ease.
Understanding judgments from others about body image, and the culture we come from, and how to become free AND accepting of it all at the same time. You can want to lose weight, and take action for change.
MODULE FIVE LESSONS:
1: I should be….Mirror, Mirror. Beliefs about the body's improvement
2: Assumptions and Distortions: healing what we think
3: Cravings
4: Mother and Father Body Stories
5: Movement and Stillness: Exercise & Joy
MODULE SIX: YUM ZONE PRACTICING PEACE IN ALL OUR AFFAIRS
Your Eating Peace Practice….Living In The YUM Zone. Unconditional Love and Transformation. We investigate what "Doing Nothing" means and how to use this rested approach further in food and eating. Simplicity, Patience, Compassion—the three things we need to work with anything, according to the Tao Te Ching. Source and Center–how to stay in the middle which is our practice. Observation as a spiritual path. You will create your own map again, your own guidance, for where to go from here, and continue your transformation into permanent eating peace.
Self-Compassion: daily practice – your own Eating Peace map to use.
Silence and the Wisdom of Doing Nothing. Can we go limp when having a worry, a craving, a concern? What can we trust? How do we keep this simple? Journaling, support team, The Work as a way of life.
Your Vision of Peace. Can we stay with the mystery of this work, and be patient with ourselves? Yes, it is possible. You'll know what to do if you get off track, and how to treat an off-balance moment with welcome.
Expanding your life: See where to explore that has nothing to do with food or eating that satisfies you (based on Artists' Way). We look deeply at our most core fear: endings, death, emptiness.
Living Your Turnarounds: Clearly working with the new images, words, feelings you find as you've questioned your thinking.
MODULE SIX LESSONS:
1: Looking again at Eating Peace
2: Success, Failure and Peace
3: WhenThings End
4: Qualities You Most Admire
5: TurnAround to #6 (I am willing, I look forward to…)
Refund or cancellation policy:
Please cancel within one month if you are unable to participate for any reason (less $97 administrative fee). This program is very high touch and you are signing up for live groups, an ongoing tribe of committed peaceful eaters, course content, partner work with others, and regular access to Grace through email and our private forum.
Everyone has access for life, so that if you miss any of the material, you will have it recorded for watching at any time. For the May 2019 program please write to Grace by 8:00 pm Pacific Time on May 30th to withdraw. You have a full month to decide if it's right for you. 
Sign up for the Eating Peace Process and remain a member for life. You can re-join any year, any time, for no additional fee. It's lifetime access as long as I'm in business.
One more thing you may love knowing before you register:
Eating Peace Retreat in person in Seattle is January 15-20, 2020 and offered separately from online Eating Peace program–however, those who enroll in both receive $100 off the full fee for the retreat. Retreat begins Weds evening and ends Monday morning 1/20 (a US holiday). You will see the special discount option to add this retreat when you sign up for Eating Peace Process.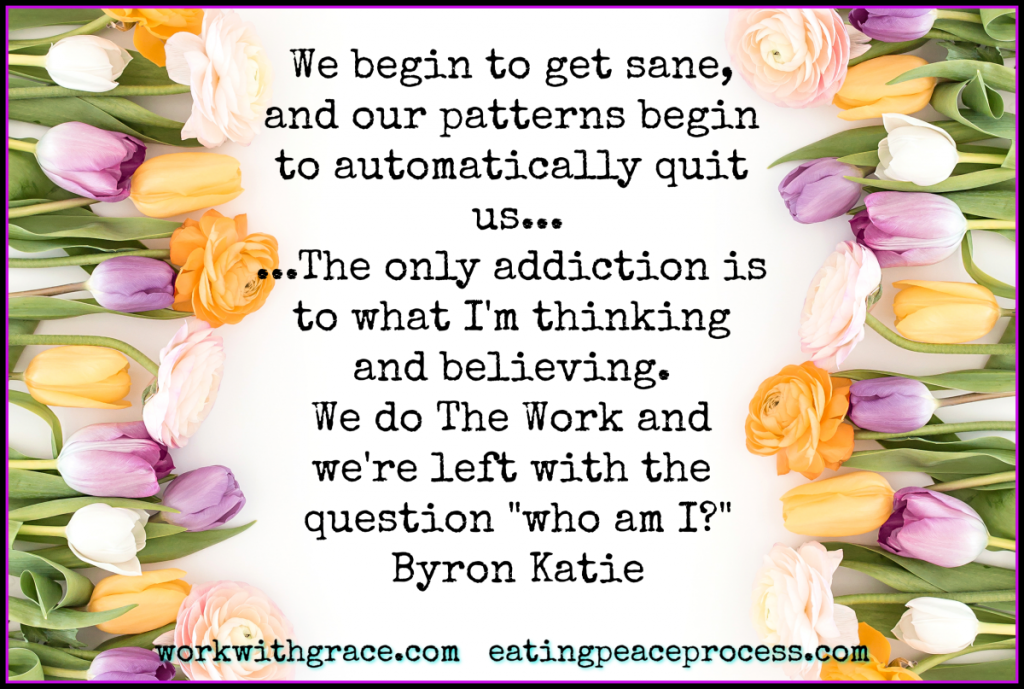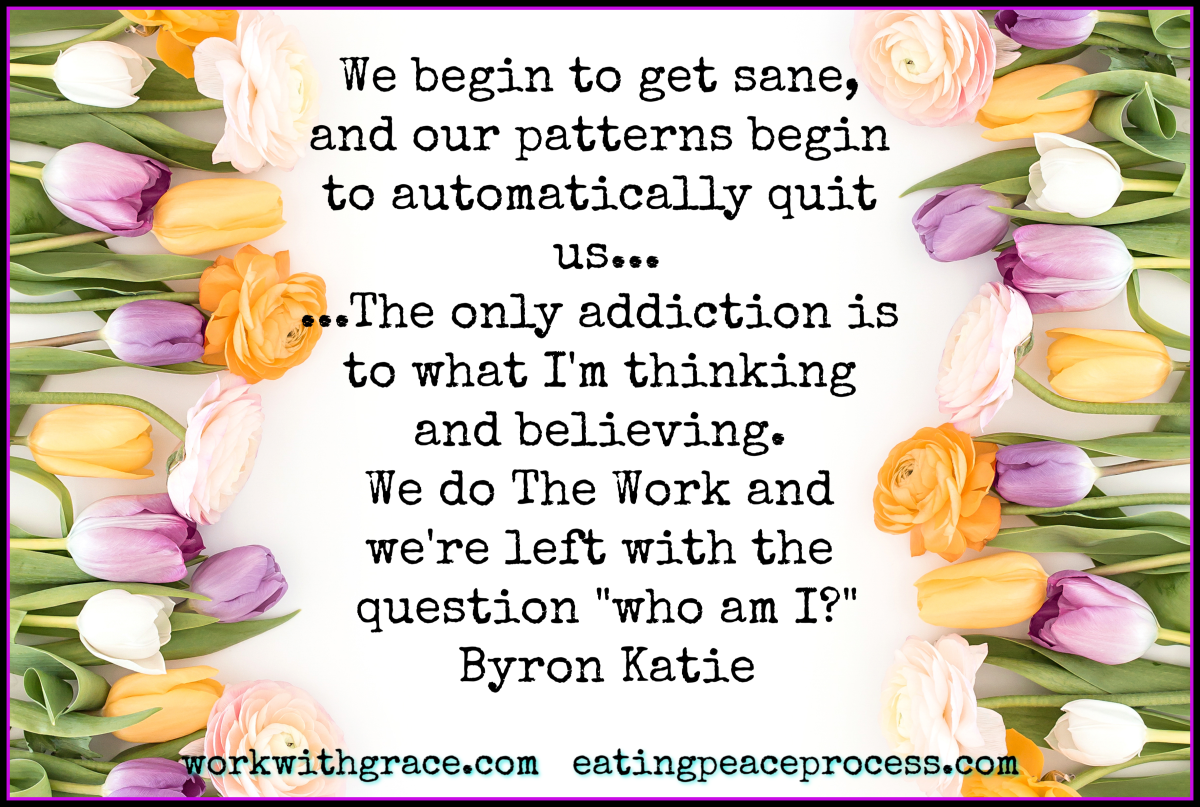 THANK YOU!
Much love, Grace