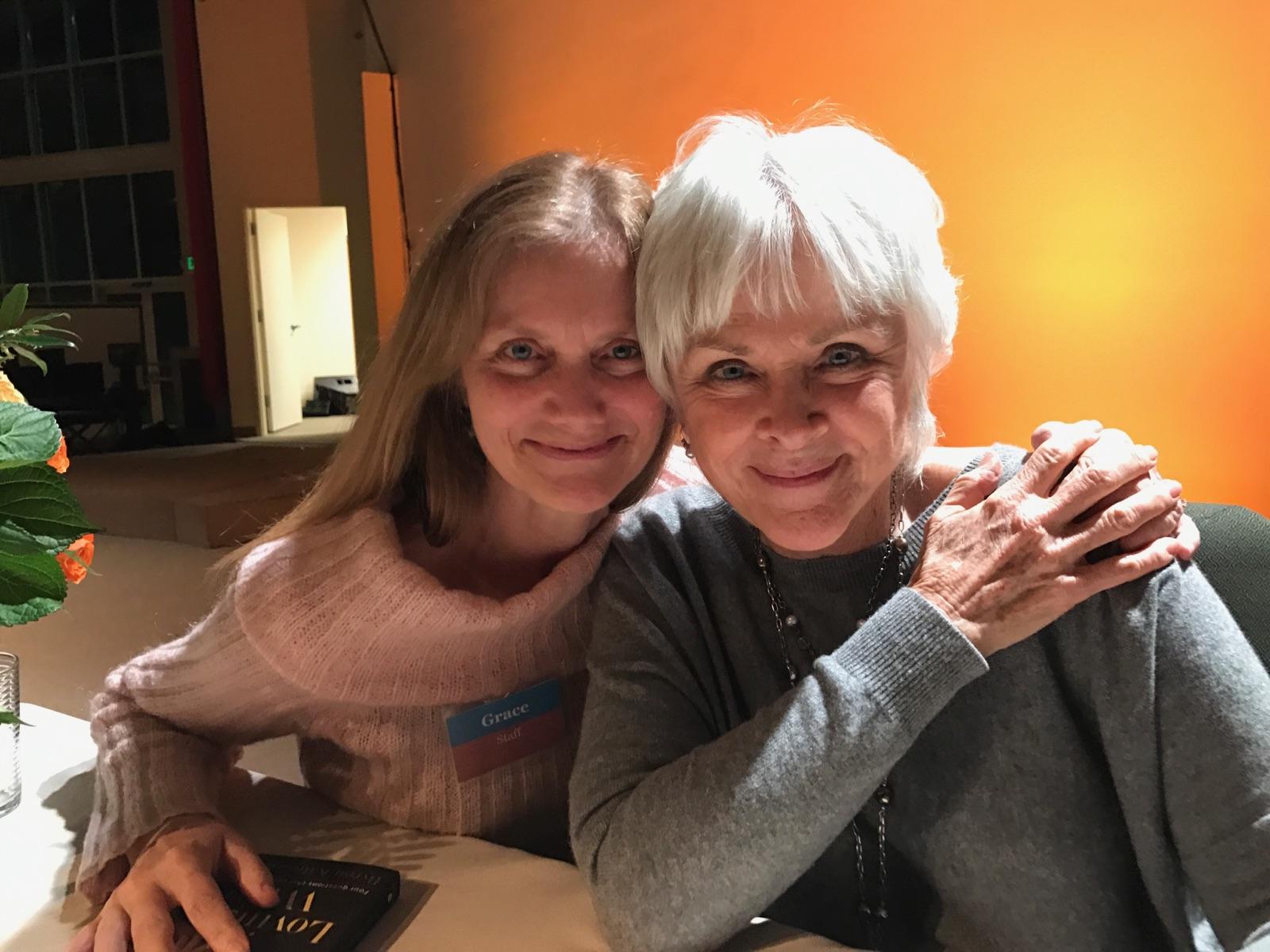 My story was extreme with food and eating. Violent, yo-yo, all or nothing, too much or not enough. Never just right. The range of discord around food can be mild to extreme. It can be a small problem or a really big one. Mine was HUGE.
If eating is a small problem, the relationship you have with food may be like a pesky mosquito: a minor irritation, it's not going to kill you, but it appears to require attention, and is never comfortable. Your body is not the best you feel it could be, you want to loose weight, you're not supposed to eat certain foods and you feel deprived, you wish it would go away.
OR, if eating is a BIG problem, the relationship you have with food may be like hell: your weight has gone up and down, you hate your body, you're angry that you can't control yourself, you have no peace, you hate eating, you hate NOT eating, you may binge-eat and then vomit or exercise frantically, you feel depressed, discouraged or suicidal.
Whether you have a small or big problem, your relationship with food is uncomfortable and stressful. Food doesn't appear to be a friend, nor does your body.
Food and eating may seem dull, basic, mundane or superficial….but I found that understanding my relationship with food and eating was my doorway to truth, my doorway to awakening to what I believed about life.
You may find that you cannot, for the life of you, stay on a diet. You can't stop feeling self-critical, hating parts of your body like your thighs, your belly, or your rear end. Maybe you don't like your arms either, or your neck.
You may feel you can't control yourself, that you need more willpower! If only you could find that extra will to refuse certain foods, or resist them, you would feel more powerful.
You may feel like all you really want is to eat with peace, eat for joy, eat when hungry and stop when full.
But something seems to be in the way of this!
My discovery was that I had a violent relationship with food, the very thing that I needed to stay alive, because of my own fearful, close-minded, torturous, critical, judgmental thinking.
I have discovered that it is possible to throw away all the dieting or planning….and LOVE myself into having a wonderful body, a fabulous relationship with food, a kind relationship with hunger, and a peaceful relationship with fullness.
This is what I used to be like. You might be able to relate.
You've tried some of the following, even if your experience of food and eating has not been as crazy as mine was:
You decide to buy and read the latest new diet book, even though you already have read and owned MANY others
You make plans, write down food and quantities, research your diet and then mark your calendar with the day you will begin
You decide not to eat after 6:00 pm, to eat sitting down, to meditate before eating, to eat five meals a day, or to drink extra water or coffee to curb your appetite
You follow a diet rigidly, maybe allowing yourself a few things off the diet, but basically you stick with a diet plan for an extended period of time and you lose weight, feel better about your body, and feel in control
You find that no matter what, after a period of controlled eating, you fight with the urge to eat and eventually give in
You give up, feel hopeless and tired, and throw out your diet books, your scale, and eat whatever the hell you want to eat, but you aren't happy about your body and you wear over-sized clothing and cover-ups
You decide your problem is YOU and you sign up for every self-improvement or self-help seminar you can find, go to therapy, or go to Overeaters Anonymous
You try to stop thinking about your ugly body, to distract yourself with novels, movies, children, volunteer activities, work, and general busy-ness, criticizing yourself for being so selfish as to focus on yourself and your eating habits
I found that building plans, strategies and goals was often like pouring vinegar into a wound. It hurt, I failed. Something was truly missing. There had to be a way to live with food and eating naturally, with total freedom, without thinking about it all the time!
As my plans never lasted for long, and I determined not to make goals again or go on diets, I gave up the traditional ways to solve this problem. I connected with others, read, and learned. I became a student of addiction, compulsive behavior and recovery.
Even before I ever encountered the four questions known as The Work, I was on my way into dissolving what I thought I knew about food, eating and the body (really what I thought I knew about life and love) and finding out the deepest truth about this experience of being in a body and eating food.
My belief system was long and terrible about what I was supposed to look like and how I was supposed to behave. I cared deeply what other people thought of me. I wanted appreciation, care and approval from others. I believed I was not good enough, not thin enough, not powerful enough.
I started to question all of it, and be open to new answers.
To begin the inquiry process, the first thing to do is to identify what you actually believe that is most painful. Once you identify the thoughts that are creating stress, then you can work with them.
When you question your painful experiences, you can experience freedom, love and the mystery of life. The most simple way to do this is, I have found, is with self-inquiry. I love using the questions known as The Work of Byron Katie, as well as the work of Scott Kiloby, Adyashanti, Eckhart Tolle and Pema Chodron.
Here are some of the thoughts I used to think repeatedly, and I really believed them:
My thighs are too jiggly and they shouldn't have any cellulite!
I need a brand new, perfect diet that I can follow
If I could just stick to my eating program, I'd be happy for sure
People dislike fat bodies
Anyone who is too fat or too thin is ugly
There's something really desperately wrong with me
I'm never going to get over this terrible relationship with food
I'll never stop wanting too much, always too much
I'm a pig
My mother, father, grandparents, the fashion industry, and society taught me to think this way, and now I can't stop
My butt is ugly, I need a harder body, I should have more defined muscles
I have to sweat, breathe hard, and push myself hard exercising six days a week
I'm a member of a gym but I don't even go (so I'm a loser)
I've been to hours of therapy to find out why I eat, but I still don't stop
Get started in breaking up all these beliefs now by writing down one belief you repeatedly think about food and eating that makes you feel stress, sadness, or frustration.
Take this belief and look at it and then ask yourself the four questions known as The Work: Is this concept true? Can I absolutely know that it is true? How do I react when I think this thought? Who would I be without this thought? What is the opposite of my thought?
If you want support to walk through this un-doing together, with others, consider joining the six week Eating Peace Core Teleclass, or the Advanced Eating Peace Process Online, an live webinar and telesession 5 month program of healing and recovery, coming to an Eating Peace in-person retreat for 3 days, OR joining the Eating Peace FREE weekly news and videos (get on the list by entering your email above and downloading the special ebook).
It took me ten years to collect these elements together, and another ten to incorporate them clearly into my life. Now, I share them with those who also want this healing.
You don't have to look any longer for new solutions to this problem. I'll tell you what I found, show you what happened, and tell you how I did it.
No matter how far you've gone down the path of overweight or underweight, or food obsession and crazy behavior, you are not alone. You can move through your pain, addiction, and self-defeating thinking and find peace within now, right in this present moment, without losing a pound.
And when you find out that you can sit with pain, inquire into it and question your thoughts, and not die….watch the weight and obsession vanish.
Comforted, Empowered and On The Path Now:
I have nothing but good to say about your class, thank you so much.  As I told you at the beginning when I was just thinking about taking the class, I didn't even know what the stressful concepts WERE, let alone questioning them.  Your "homework" assignments totally cleared that up for me.  I'm still amazed at how your questions cut through the illusions and got me to begin to see what the thinking is that's causing my suffering.  I feel like I'm "on the path" so to speak.  The journaling was exceptionally helpful.  I especially liked the facilitations amongst us participants, that was so powerful.  Plus knowing you've been exactly where I've been has been very comforting and powerful.—Becky, teleclass participant, midwest USA
I now eat whatever and whenever I want to eat, almost never weigh myself, love exercising every day, enjoy buying clothes, have moments of assessing my body in a negative way, but mostly accept it and follows its direction—eat when hungry, drink when thirsty, stop when full. If I can do it, so can you. I once felt completely insane around food and eating and now feel entirely "normal".
PROFESSIONAL BIO:
Click here for a copy of my MA degree documents (proudly earned in 1996, awarded 1997):
Grace Bell MA Applied Behavioral Science
Professional Journey:
I first encountered a need to heal from very painful thinking when still a teenager. This started a journey of self-discovery, seeking, riding a roller-coaster of emotions and thoughts, and studying.
Visited my first therapist in 1981 and entered group therapy in 1988. She completed "est" training twice in 1985 and 1986 and discovered the beauty of the 12 Steps and the power of sharing the road with others.
Completed "Facilitator Training" at People House in Denver, Colorado, a year long personal exploration program, in 1987, and also an in-patient treatment program for eating disorders and addictions at Porter Memorial Hospital in Denver that same year.
Joined a Course In Miracles study group in 1988 and finished the daily workbook in 2008 (yes, 20 years later). Learned Transcendental Meditation in 1992 in a beginners class.
In 1997 graduated with master's degree in Applied Behavioral Science from the Leadership Institute of Seattle at Bastyr University (LIOS), opened a part-time counseling practice in Seattle and served as Assistant Therapist to two therapy groups using modalities of gestalt therapy, corrective parenting, psychodrama, Rogerian therapy, and transactional analysis.
In 2008 graduated from both the Certification Program for The Work of Byron Katie with The Institute for The Work after many hours of training and attendance over three years, and Accomplishment Coaching, a one-year Life Coach Certification program.
Attended many one week long meditation retreats and intensives with Adyashanti, one of my favorite spiritual teachers, two intensive meditation Qi Gong retreats with Ming Tang, a Chinese Qi Gong practitioner, and I am an avid reader of mystic poets, the Tao de Ching, Michael Singer, Eckhart Tolle, Pema Chodron, and I adore new books exploring life. I graduated from Mama Gena's School for Womanly Arts in 2011.
I have worked with people from all over the world including Japan, Australia, Tasmania, England, Holland, Spain, France, Sweden, Switzerland, Denmark, Greece, Italy, Namibia, South Africa, Lebanon, Canada, Egypt, Ireland, Peru, Mexico, China, and the United States.
Interviews:"The Secrets of Dating and Relationship Success" produced by Sharon Marks, "The Great Parenting Radio Show" with Jacqueline Green in Toronto, Canada and "Intuition To Income" with Abby Gooch.
My service to this inquiry process has taken me to lead workshops around the world at Unity Church, Breitenbush Hotsprings Oregon, New York, London, England, Hospice and Hospital Staff in Washington state, and multiple classes in Seattle, Washington.
With humor, gentleness, acceptance and sincerity, I have worked with hundreds of people (and most importantly, myself) to discover freedom, peace and joy by encouraging them to clearly identify their most painful beliefs and then asking them questions.
Let peace begin with me.
Much love, Grace