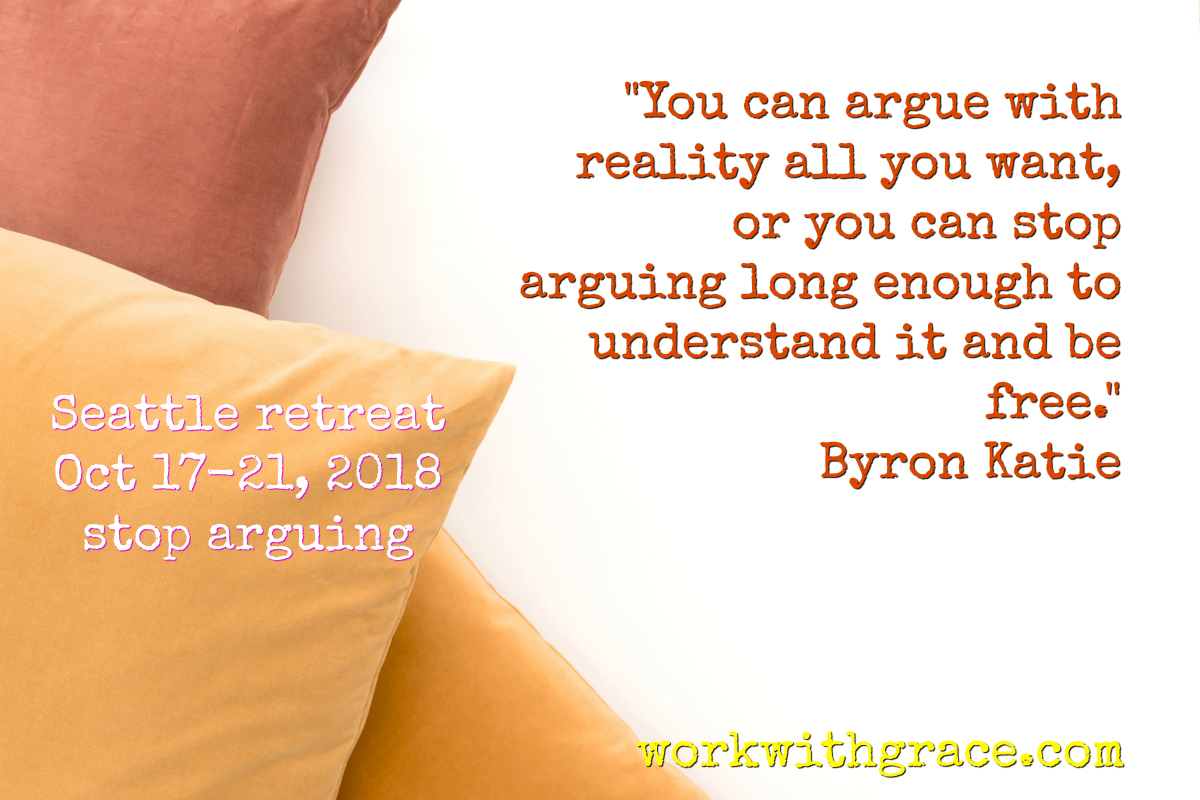 As I prepare for the new Eating Peace Process Immersion, coming up in mid-November, I'm creating two helpful (I hope) and complimentary events that I hope will support eating freedom and clarity, and give you the chance to experience online group connection and learning with me:
1) a brand new completely free Eating Peace Webinar on changing the stories that drive eating wars, and;
2) a one-week Eating Wars Challenge where we'll be together daily from November 4-10 on facebook live to question and shift compulsive or emotional eating in our lives.
I'll share more in upcoming Eating Peace Notes soon, including information on how to join one or both of these complimentary trainings.
The other day, I was reflecting on one of my first most terrible, dreadful "loneliness" stories.
The "I Am Lonely" story.
I am not connected, I am abandoned, I am alone, I am not safe.
I AM NOT HOME.
This story is incredibly stressful.
When I believed it was the truth, what did I do?
I isolated, I tried to hold back tears, I slept a lot or lay in my bed…and I ate.
This is a truly powerful story to question. So let's do it today (and you're welcome to watch my live youtube on this right here).
I am not home.
Is it true?
No.
When I think about this right now, today, I can still find the voice that wonders where home is….that isn't so sure it's here, now. But I really can't know that voice is accurate.
The thought comes in "where else would home be, if not here?"
I can really see it's not True.
But how do you react when you think it is?
Doubt enters my heart, and I feel it in my body. I believe I won't be safe quite soon, and I'm not emotionally safe now. I can't relax. I want to go home, like a little kid saying "where's my mommy?"
And if you watch my story I shared on youtube, you'll know that the way I reacted to this belief "I am not home" is that I ate.
I ate and ate and ate and stuffed and filled myself. I remember I knew how to say in French, "J'ai manger trop".
"I ate too much!"
I said this many times to my student leader on my foreign exchange program who was probably about 24 and seemed so old and wise and capable. I remember her saying back to me "you've said that a lot!"
Ugh.
I've sat with many people in this stressful belief. Some people react by hunting for the perfect mate. Some people buy clothes and go shopping and try to enhance their environment with a feeling of "home". Some people watch TV or movies, or join a ton of groups, or fill their time with way too many tasks.
Just watch, if you've held this belief that you are not ultimately at home, how stressful it can be.
I notice that I've felt source, reality, universe, God, were very far away somewhere and not listening to me. (I notice it makes no sense at all, really, but the images are of distance, outer space, being cut-off, feeling desperately sad).
Now….who would you be without this belief you aren't home?
I instantly notice a sense of relief or wonder about this moment. It's quiet, yet I can hear a lot of sounds–crows and eagles outside, a group passing by on bikes calling to each other, wind chimes on the front porch, a loud motor from the busy street in the distance.
But I suppose it would be fine if suddenly I was deaf.
And what would this moment be like without sight, without the belief you aren't home?
I find there's a trust present that I didn't feel before. Something kind. I'm not assuming darkness or blackness means aloneness or separation.
Turning the thought around: what if you are connected? What if you are home?
I am connected, I am found, I am surrounded, I am safe.
Was that actually true for me at that time so long ago when I shared my story of being so far away in another country?
Yes.
I had a group leader, I had adults who had welcomed me into their home to spend time with their family for the entire summer, I sang all summer with my friends in 3-part harmony during our bike ride adventure through France, I felt joy at the beauty I witnessed of landscapes and castles and camping in barns on hay, I learned that I didn't need my parents or family around in order to be happy.
I also learned that something in me felt terrified and reached for food for relief, escape and comfort. I lost some of my innocence of childhood and discovered I had something vital to contend with—my inner soul's desire to connect with other humans honestly (instead of food).
It was not easy.
I am still practicing and learning the living turnaround: I am home.
But what I can see is when I do not believe that I'm not home and there's no hope in returning home, I do not eat wildly and desperately.
I notice a need to articulate my feelings and speak them. I ask for support and put myself in environments where I will receive it. I connect with other people–including all the clients and people who appear for groups–and we do this work, together.
I feel in this body, and in my consciousness, a sense of now, here, being, open.
Gratitude may appear. Thankful for this chair. Thankful for this tree. Thankful for this mind, these thoughts, these feelings even.
This. Nothing more required.
Geese appear high over us,
pass, and the sky closes. Abandon,
as in love or sleep, holds
them to their way, clear
in the ancient faith: what we need
is here. And we pray, not
for new earth or heaven, but to be
quiet in heart, and in eye,
clear. What we need is here.
~ Wendell Berry
Much love,
Grace
P.S. All new Eating Peace webinar in the works, along with a 7 day Eating Wars Challenge (long-time requested, and I'll finally do it). Stay tuned, the webinars will happen October 24th 9 am PT and October 25th 2 pm PT and again on the weekend November 10th 4 pm PT and November 11th 10 am PT.
The daily LIVE challenge will begin Sunday, November 4th and I'll go live on facebook daily with a really life-changing important "story" to challenge when it comes to dissolving compulsive eating.
Eating Peace Process 5 month Immersion starts in November. Registration will open at the end of October. Read about it here.
Eating Peace Annual Retreat. Limited to 14 people. Learn more here. Amazingly, already this is filling even though 3.5 months away. Love to have you start the new year with eating peace Jan 9-14, 2019.