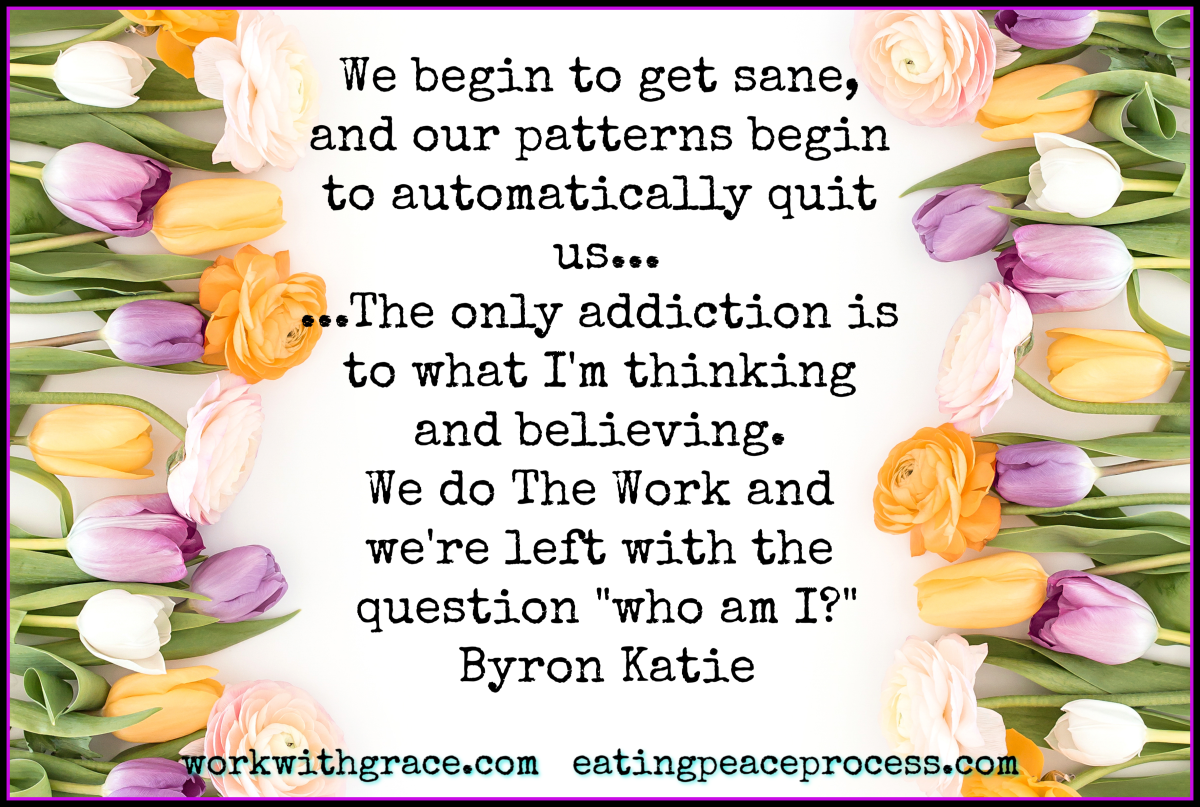 For everyone on my eating peace mailing list, and you grace notes readers too: thank you for sticking out all the announcements about Eating Peace Process starting today. It closes tonight at 10:00 pm. We start our first live call tomorrow at 9:00 am.
Tomorrow, I'll go back to the usual videos and weekly news for eating peace (and the free grace notes, too).
Eating Peace consists of a lot of content, exercises, videos, live calls and a secret private facebook group (optional) for those who want to connect with others inside the program.
But honestly, whether or not you ever join an online program in self-inquiry and doing The Work of Byron Katie or understanding the inner world around a specific problem or compulsion, like weight, body image, eating, food….
….there's one thing you can do today to settle down and perhaps find more rest than you normally do.
This is true for any self-sabotaging behavior you've got going. Eating, drinking, smoking, working, cleaning, obsessing, relationship-fantasizing, worrying.
Surprise: it's another question (don't we love questions for the open-mindedness they support)?
The question is: Can I just be with what is happening right now, and let it be here?
Can I allow life to be as it is for me today?
I feel like eating, I feel worried about my boss, I feel anxious about my business, I wonder when I'll die one day and from what cause, I stress about my kids, my spouse, the health of my friend, money, who's winning the game.
And on, and on, and on.
The mind is genius at imagining and creating and wondering.
What happens when you do NOT think you can let life (or your body, your weight, your cravings) be here right now, the way they are, in all their glory??!
What I notice is I fight the thing, the energy, the issue. I find solutions. I'm on a rampage internally about fixing it.
I'm anxious and trying NOT to be. I'm compulsive and shouting at myself NOT to be.
There's an argument, and I'm losing and winning and losing and winning and of course….losing.
"Argue with reality and you lose, but only 100% of the time." ~ Byron Katie
Who would you be without this story that you absolutely CAN'T LET THINGS BE AS THEY ARE in this moment?
Hmmm.
But.
Aren't we supposed to be doing something about how bad things are? Like making more money? Losing weight? Quitting our disorders? Running our lives?
Are you saying I should just stay in bed all day?
LOL.
It never means this. The mind loves to jump to that conclusion. It wants to do something….Yesterday. 
The mind likes control and management and getting what it wants, when it wants it. Nothing more or less will do.
What if we could be with what's happening, and trust the process of pausing? What if we could simply notice that awareness of sitting with All This is perfectly OK and we'll probably want to get out of bed eventually.
My first husband used to talk about his mother giving a dire punishment to her kids when they acted out of line: Go Sit In A Chair. 
NOOOOOOO!!!!
They had to sit in a chair. It was like a time-out only before time-outs were a thing.
They'd sit, and sit. And then start to step down in front of the chair and see how far they could stretch into the room without leaving contact with the chair.
Can you picture a kid doing that?
It becomes a game. If you tell me to sit in the chair, I'm going to figure out how to wrestle around with it and get my way, or get away with something, or sneak.
Diets or Rules About Life can be like that inside our own hearts and minds.
The rule is pronounced and we feel anxious, or try to press the boundaries to see how far we can push without leaving the chair.
Sneak eating, isolating with food, sneaking out to smoke, dreaming about escaping or moving to another country without telling anyone, sneak drinking, buying stuff online, watching junk TV when we believe the rule is "accomplish something and use your time well every second of every minute of every hour" (and other perfectionistic thinking).
This thinking can get much more dire and dark than any of these, too.
It's like in the fairy tales when they say "You can go anywhere in the entire castle, but NOT BEHIND THAT CURTAIN!!"
Of course, where do we want to go?
Behind the curtain.
Turning the belief around: I can handle being with this right now. I simply can be with it. I can let it be here. I am not in charge. Everything has led to this moment now, and I can sit here and cry, scream, yell, sigh, laugh, wait, be without doing anything about it.
I notice when I don't do anything about my problems and I also LET them be there….they are not so daunting. My thinking becomes less dramatic.
I don't have a heart attack sitting in my chair letting things be the way they are.
If you feel desperate TODAY….the one powerful question to sit with (the answer is YES).
Much love,
Grace
Sign up for Eating Peace Process here. We meet May 2-August 15. Everyone has access for lifetime, meaning you'll always get the chance to join when I offer it again, without any extra fee.
Joy of Inquiry on Eating
"I feel like I could do the work on the exercises and images that came up for the rest of my life. I actually watched it in two sittings, stopping between writing the turn-arounds to the actions that undermine peaceful eating and investigating the worst things. Thank you, thank you." 
A Combo of Gratitude and Fear
"In intending to watch the videos, even now I have the familiar feeling of being sooo scared. I feel tears coming to my eyes. I am so grateful for your work…which has put into words what I am, and what I have experienced. Tears of gratitude for your open and honest sharing."
The Why Behind Eating
"I have read CBT books and worked with nutritionists but neither of these methods addressed in detail the intense emotions and intricate thought processes that your videos mention – and which resonate with my personal experience. Thank you for trying to help people like myself as we navigate the why behind what is happening."