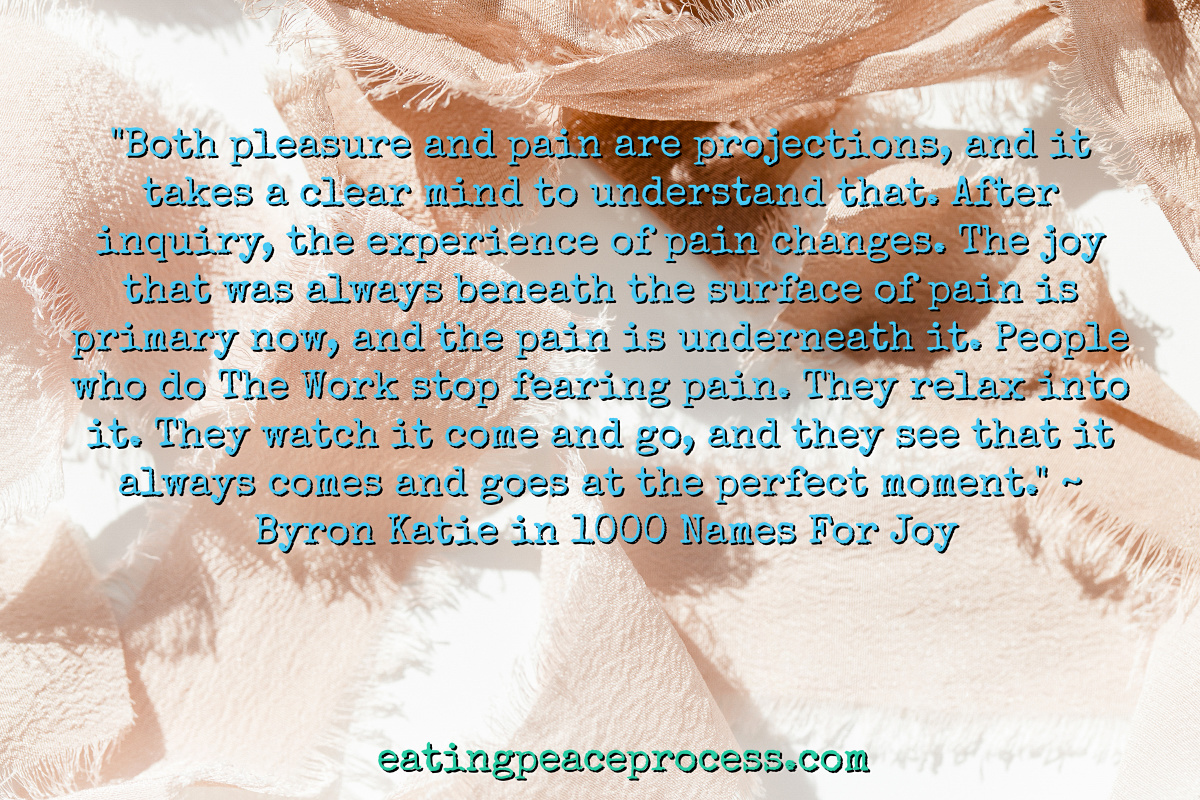 I've been deep in the autumn retreat I've seemed to offer for a few years now doing The Work of Byron Katie. True, honest sharing together questioning stressful stories. I'm so grateful for the fabulous group of people who attended.
Now that it's over…it's a wide open road to the Eating Peace Process; a circle of people who will travel together live online through self-inquiry and guidance in mindful and peaceful eating for five months together.
It doesn't matter if;
you're somewhat discouraged about a tendency to overeat a lot and you're feeling slightly (or very) chubby OR
you're desperate for some kind of balance between binge-eating and self-starvation OR
you're someone whose mind is filled constantly with labels, chemicals, diet plan(s), measurements and worry about what and how much to eat OR
you over-exercise and think you should eat salads all day….
….No matter where you are on the spectrum or experience of eating battles, you don't feel peace when it comes to eating. There's a pain in eating, in this whole thing called "eating".
Instead of joy or ease, you often feel anger, fear, discouragement, and sometimes even self-hatred.
At least, that's what eating used to be like for me. It wasn't ever fun. My experience of eating went from craving and ravenous to unpleasant to torturous regularly.
Even as the autumn retreat was underway this past weekend, I sat on my front porch Saturday morning to make a video for you.
It was inspired by a bird's-eye look at eating itself as an activity we humans seem to be required to do.
This thing called "eating". What is it for, bottom line?
Life.
Eating provides fuel for being alive physically. Keeping this body running and going.
It's often pleasurable, too, and built to be that way. It's lovely to have the organism kept fueled from activity that's appealing. (That was a smart creation move).
And there's so much to choose from, it's rather astonishing. We can eat so many things in this world!
So what's happening when there becomes urgency for eating? Could it be a bid, or a symbol of feeling urgent about living life, having life, being alive?
When I think about this act of eating itself being a basic need and drive for life, I recognize from my binge-eating days that something in me was driven insane trying to LIVE.
I wanted to EAT, EAT, EAT….but really I wanted to feel alive….and something, honestly, felt dead inside.
Something was locked away, suppressed, dismissed, overlooked, ignored.
I had a hunger that wasn't getting fed or satisfied, and I thought my only option was to pretend it wasn't there, and bottle it up inside.
Freedom to eat in a relaxed way was not possible in that state of mind, where some things were "killed" within and not dealt with. At the time when my eating was seriously out of whack, I was so hungry for an honest life, and full of sadness and desperation because parts of me felt ignored, needy and even dead.
One good question you might ask yourself, if you overeat or over-focus on eating: what have I tried to kill within (the opposite of life)? What feels like it's died inside me? What am I really hungry for, or wanting to give fuel to? What am I so afraid to do or be that I'm not trying it?
In preparation for the upcoming Eating Peace Process Immersion starting November 13th, I'm offering a webinar for anyone and everyone seeking eating peace. Mark your calendar for the time that works for you best. These will be free, and I'll share information and answer questions only at the end about the immersion program running November through April.
Eating Peace Free Masterclass Webinar, offered 3 different times (you choose what works best). If you want to join, you must register by entering your email here.
Tuesday, October 30th 4:00 pm PT
Thursday, November 1st 8:00 am PT
Sunday, November 11th 10:00 am PT
Because so many people have questions or feel pretty discouraged about new eating programs (especially because you've been on 800 diets or food plans in your life) I am ALSO offering a new experiment in online support before the full-on program starts:
An 8 day free course delivered through facebook LIVE. If you're interested then sign up HERE to receive daily alerts via email for the live course. It will run Nov 4-11th, and you'll have access to the recordings.
In this facebook live eating peace 8-day course, I'll share one very important principle each day for freedom from eating battles through the process of self-inquiry, meditation and inner rest.
In a way, all these courses and offerings are simply the creative act of living. It is not ultimately required that we know "more" about how eating works, or the body's digestive system, or to get a PhD in Nutrition or Psychology.
Maybe the way through is feeling comfort with life here in this moment now. Not being so afraid of the past, or painful ideas about living (which can be very scary).
Who would we be without our fearful stories about living as humans on planet earth? Who would I be without my thoughts?
Wow.
"Both pleasure and pain are projections, and it takes a clear mind to understand that. After inquiry, the experience of pain changes. The joy that was always beneath the surface of pain is primary now, and the pain is underneath it. People who do The Work stop fearing pain. They relax into it. They watch it come and go, and they see that it always comes and goes at the perfect moment." ~ Byron Katie in 1000 Names For Joy
Eating Peace Process 5 month Immersion starts in November. You can read about it and learn more about the schedule 
here
.
Eating Peace Process Participant: Miraculous Peace
I feel an indescribable peace. I saw this in action this morning. I had the experience of waking up, filled with anxiety and doing the exercise where I listed all the stressful thoughts. What I did next was genuinely say to myself that I was excited to know what the insight was and I really felt the excitement and gratitude…I went to respond to the list of complaints and world-class wisdom came out me. It was amazing! This is new. I can put the stressful thoughts on the side without having to do more than a few minutes exercise and get to a peaceful place. It's kind of a miracle!
Much love,
Grace