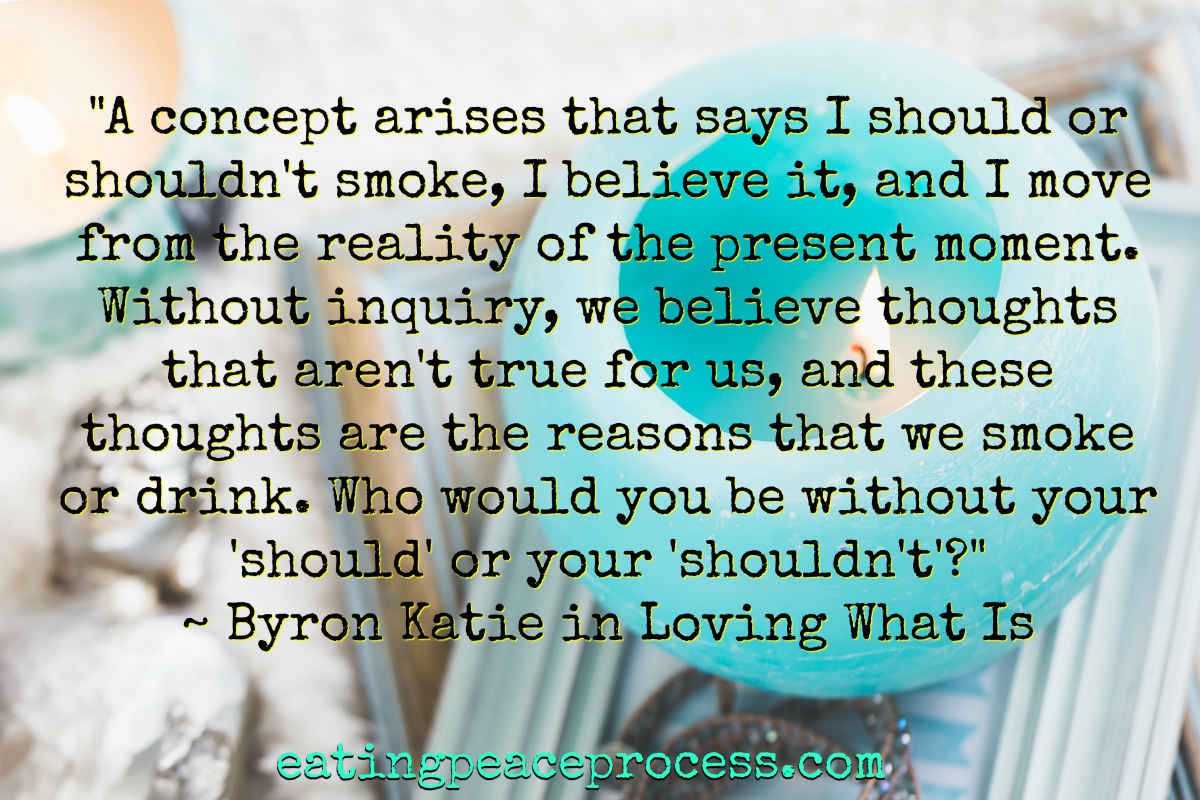 If you've had eating troubles of any kind, then your mind has likely said loudly to yourself:
"Really? You did this again? What's WRONG with you? You should be OVER this by now!"
Let's inquire into this thought today, with The Work of Byron Katie.
Is it true you should be over this "problem" by now?
Are you absolutely sure?
What I noticed over the many years I struggled with eating, food, weight….is that I wasn't over it.
And to this day, there remain concepts to look at that have to do with food, eating, moving. I may not be binge-eating or purging or so extreme with food anymore, but there's still noticing and awareness and change and interest in peace in every situation.
How do you react when you believe you should be over it, when you aren't?
Very harsh. I become a Dictator about myself. Or I curl into a ball of sadness and despair.
Desperate, hopeless, angry.
So who would you be without the thought you should be over something that you aren't over?
And we're talking about food and eating and weight management and all of that here (although there are many other things people think they should be "over" that they are not actually over).
Without the belief I should be over something I'm not, I feel very curious about the behavior. I have questions. I feel a greater awareness, a willingness to support this person I apparently am.
I inquire. I want to look. I might even ask for help, join with others, find greater support.
I'd look and see what the eating was expressing. What was I afraid of? Worried about? What's my relationship with reality in the minutes surrounding this eating behavior? What have I not looked at, or what am I missing here that I've been afraid to see, or concerned about?
What would make me think overeating, or starving, is the only solution or way to solve my discomfort in this moment?
Who would I be without this story?
Turning my thoughts around: I should NOT be over it, I should be over my thinking. 
What's the message? "This" energy can't stop until I face it, look at it, respond to it.
I might even notice that I can say "no" to eating, even if my mind offers this as an option, and cravings have begun. I can be over my "thoughts" in this situation. I don't have to take action on everything my thoughts tell me.
Including eat.
Could the eating I'm doing and my relationship with food have something to do with my worries about life? They sure did for me. The eating helped me to identify what it was I was thinking and believing about people, what people thought of me, my condition, being small, the dangers of life, the unfairness, anything I might worry about.
I can look at what's going on in any troubling situation, and inquire.
Thank you, disordered eating, for showing me where my perceptions have not been peaceful about reality.
Much love,
Grace